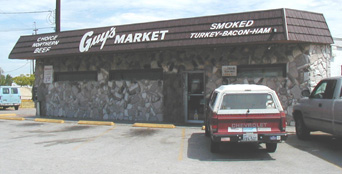 There was an episode called
"The Best Burger in New York"
for the CBS-TV Show, "How I Met Your Mother" where Marshall Eriksen (Played by Jason Segel) was obsessing over a burger he had during the first few weeks after he moved to New York City. At his room-mate, Ted Mosby's behest, he got out of the apartment and began wandering around. Right around the time he was starting to get hungry, he stumbled into a hole-in-the-wall restaurant with a Green Door and a Red Neon Sign that said "Burger", right in between an Adult Video Store and a Taxidermists. Marshall unfortunately never thought to take down the name of this burger joint and it's become a lost Isle of Atlantis Quest for him... and apparently Regis Philbin.
Behind the Green Door is the Best Burger ever to Marsall Erikson
The point of that episode to me was that although plenty of places can serve you "just a burger", when you get an exceptional burger like
The Burger Guy's Sonoma Burger
, it becomes way more than just a burger. It's a piece of appetite satisfaction that there are very few substitutes for. While
Guy's Meat Market
isn't serving a fancy, Akaushi Beef burger, it is serving up a slow smoked, backyard barbecue style burger that has a nice red smoke ring like properly smoked beef brisket and seasoning that also echoes the same flavour. And an 8 oz pre-cooked weight patty for under $6.00, it's also a good value. So without further ado, here is your...
Guy's Meat Market Slow Smoked Bar-B-Q Burger Blueprint:
8 oz ground round steak patty, ground in-house
and slowly smoked
Fluffy, locally sourced bun
American cheese (if you please)
For veggies I added:
Lettuce, tomato, pickle, jalapeños
And Mayonnaise
Just a head's up: Guy's is a lot like a small town corner store that also sells barbecue. You see such places all over Texas and parts of the Southeastern United States. There are no tables to sit and eat your lunch. Take out only. They have good choices of chips and sodas to buy with your meal, but you're either going to eat it in your car or you'll need to pull over somewhere to get your burger on. Also, Guy's is a meat market--you can buy meat there. They are butchers and know how to properly cut various types of beef, pork or whatever else you want. Furthermore, if you are too late for a burger, they have really delicious barbecue that several folks from the local neighborhood raved about as I waited in the line-up for the burger. Now, let's talk about the burger:
I sat down in my car and took a bite of the burger. In a word: DAYAM! I mean a double-syllable DAYAM! This burger had a red smoke ring in it like brisket! It had a mixture of seasonings that included pepper, paprika, garlic and a few others I couldn't quite place. This tasted like slow smoked backyard burgers that you'd scarf down over a summer long weekend! The bun was fluffy and kept the contents inside. The veggies were fresh and they didn't overdo the jalapeños or the mayonnaise, like some places would. The staff was very friendly, and there was quite a line-up, many folks from all over the Med-Center and elsewhere out to get their burger on. After three bites, I could taste the reason for the line-up. USA Today featured Guy's Meat Market on a list of
10 Great Places to Sink your Teeth into a Burger
. For all its foibles, USA Today got this one totally and completely correct.
One last warning: if you want a burger, they make them Tuesday through Friday, 11 AM to 1 PM, or whenever they sell out, whichever comes first. No burgers on Weekends as far as I could see and they are closed on Mondays. Since Guy's Meat Market is strictly takeout, I'm only going to grade the food, service and cleanliness. The Ambiance is rustic.:
The Foodie Professor's Report Card:
Guy's Slow Smoked Burger: A+
Service: A
Cleanliness: B+
Overall Grade: A and one of Houston's Best Burgers IMHO.
Guy's Meat Market
3106 Old Spanish Trail
Houston, TX 77054
713-747-6800
And remember:
Eat Happy!
Zao An, Y'all!!!